Vacancies
Digital Communications Coordinator- POSITION FILLED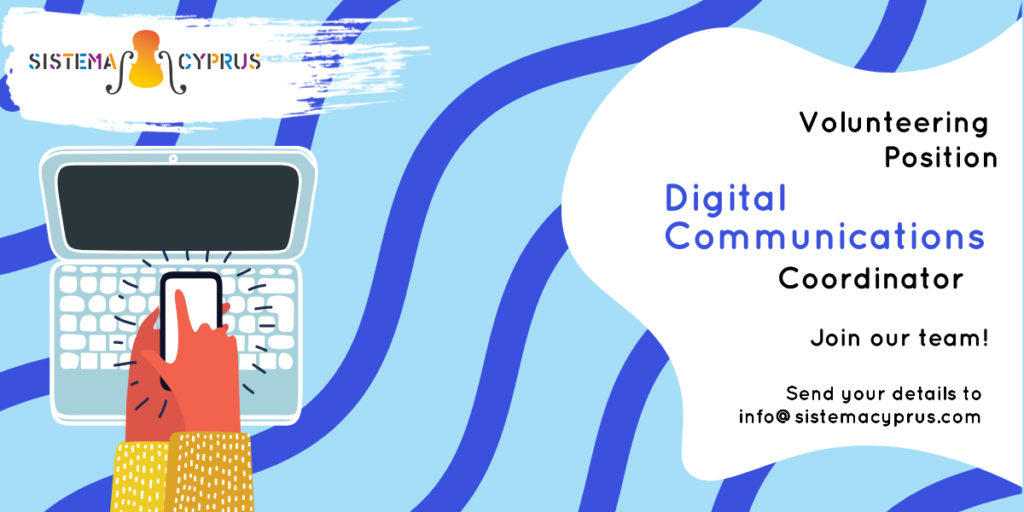 Estimated Hours Per Week
3-5 hours per week
Remuneration
Non-paid, volunteering
Job Description
Sistema Cyprus seeks a Digital Communications Coordinator to help produce and expand the online engagement of the organisation. This person will be working closely with the Communications and Marketing Officer of Sistema Cyprus, Myria Kkali.
This person will be highly motivated and comfortable with technology and programmatic event management. Experience using different digital publishing platforms and a demonstrated ability to problem solve are crucial. In the case where no prior experience exists, training will be provided to the applicant.
This is a non-paid, volunteering position. As a fairly new, non-profit organization, Sistema Cyprus mainly operates with a team of volunteers who help manage and run the organization's day to day tasks. The successful candidate will, however, find this position rewarding and very much fulfilling, as we strongly believe the work done in Sistema Cyprus is making a difference in many children's lives.
Some of the tasks to be carried out by this position include:
Website management/ updating
Newsletter production and design
Social media engagement
Managing online content to support on-going campaigns and promotions.
If you are looking for a volunteering opportunity, Sistema Cyprus is a great way to showcase and develop your professional skills and assist our vision and mission while gaining valuable work experience within the marketing and the non-profit sector.
Who is Sistema Cyprus?
Sistema Cyprus is an El Sistema inspired program which aims to provide all children and young people with free music education through orchestras and choirs. The second aim is to promote respect and recognition of vulnerable population groups from the society.
Sistema Cyprus operates in the area of Faneromeni in Nicosia, in the "Home of Hope" (Hope for Children CRC Policy Centre) and in the area of Faneromeni in Larnaca, providing more than 100 children and young people with free instruments and lessons.
Area of Experience
Marketing; Digital Marketing; Communication;
Closing Date
1st August 2020
Special Instructions to Applicants
Please declare your interest by emailing info@sistemacyprus.com
---