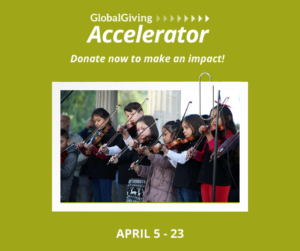 The GlobalGiving Foundation of Washington DC  has given Sistema Cyprus an awesome opportunity to participate in a fundraising 'Open Challenge' involving nonprofit organisations from around the world. All the funds will support the development of our socio-musical programme.
In order to succeed in GlobalGiving's Open Challenge, we must raise $5,000 by April 23, 2021. If this threshold is met, our project 'Help 200 children change their lives through music' will be permanently featured in GlobalGiving's fundraising platform, where it will have the potential to benefit from international corporate relationships, exposure to a global new donor network, and access to dozens of online fundraising tools.
Now we are asking for your help to meet this threshold!
Help us by making a donation or by spreading the word.